Painting and Drawing Classes
at Encinitas Highlands
New
In addition to the painting workshops, classes on DRAWING. I will work with you on your painting if that's what you are here to do. Or, take advantage of the focus on drawing skills during this period. Many of you have asked for it, here it is.
Materials Kit: Order a very cool drawing materials kit from me (optional). This will save you the time and trouble of finding and buying specific art supplies yourself. $25 prepaid please at the time you reserve your space by check.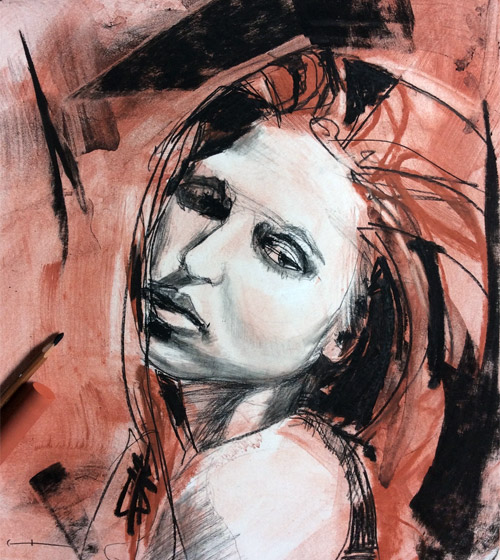 Painting Workshops
Would you like to:
• Paint more intuitively? • Paint with flow, freedom and ease of expression?  • Create with energy and momentum? • Break through self limiting behaviors in painting? • Understand color and values? • Develop solid design frameworks for your paintings? • Confidently create a solid composition? • 'Act' instead of 'think and dream about' art-making? • Successfully use negative space in your paintings? • Explore new techniques? • Connect with a higher consciousness through your art? • Express something universal or spiritual through creativity?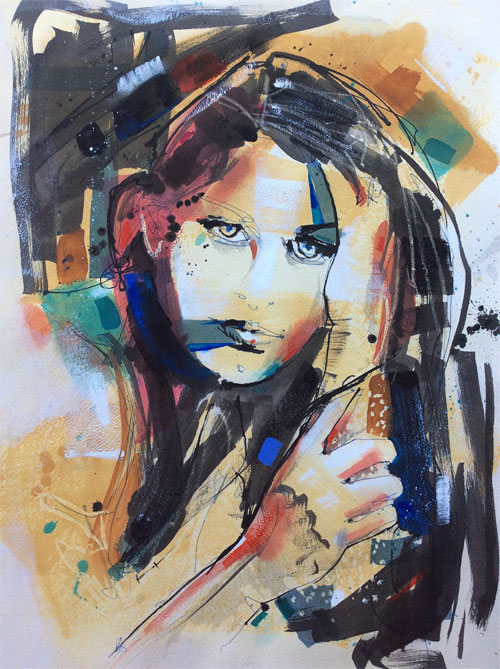 If a voice inside you said 'yes!' to some of these, you may be a great candidate for the classes and workshops. We'll be learning and practicing specific ways of achieving in all the areas above.
The classes are four hour sessions with group and individualized instruction. There are painting demonstrations and a lunch break.
The list above is a mix of 1) mindsets/practices 2) source consciousness, and 3) knowledge and techniques. I believe these three areas are inextricably combined in successful and satisfying creative production.  Oddly, they are not often taught together but are separated out. Why? I give attention to all three in the classes I teach. You can choose your emphasis. There is no question that developing or recapturing inner freedom helps in painting with freedom and joyful abandon – and vice versa.
One more thing: we have a great time, we WILL have fun.
The classes are four hour sessions with group and individualized instruction. There are painting demonstrations and a lunch break for those who want it.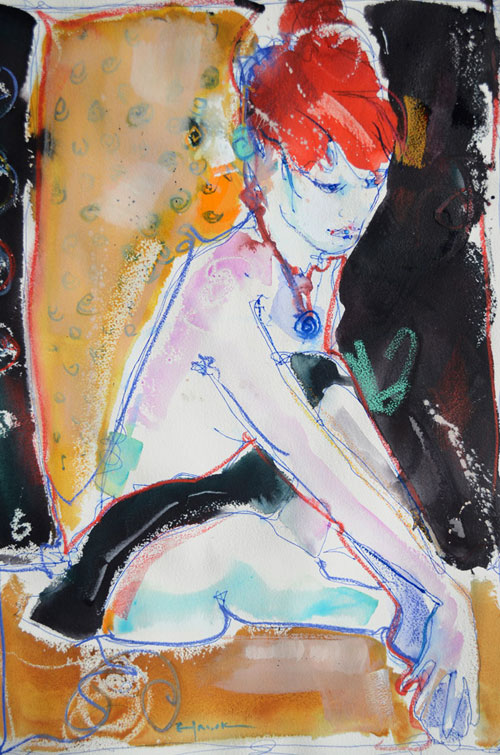 Concentration is on the figure. This need not be intimidating – come and have fun with this most expressive and intriguing subject matter. You may have your own subjects that you like to concentrate upon. That's great too. The setting may inspire you to do seascapes.
Note:  The workshops are in a light, bright, airy house on a hill near the ocean two blocks from Coast Highway 101 in Encinitas, California.
Small by design, the workshops fill quickly so don't delay if you are interested. 

Media? Tube watercolor is great for ease of learning and handling in the classes, capable of a wide range of expressions, highly recommended. If acrylic or oil is your medium of choice and you have investment in those materials, that works too. You can apply all the approaches and techniques I teach to ANY medium in which you choose to paint or experiment. Materials lists will be supplied.
Payment? It secures your spot. Please pay by check or cash.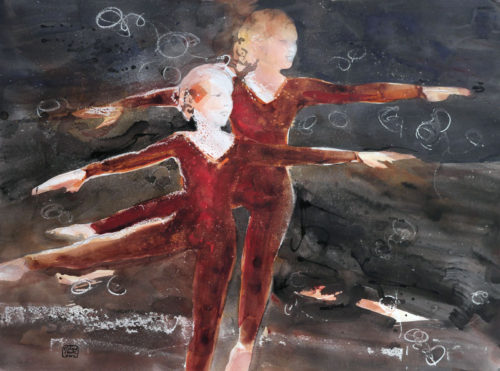 Recent Instruction Session Examples Below
(Please read these to get an idea of the possibilities for your in-class study with me. Pick your own direction and go!)
The Fundamentals
'Fundamentals' doesn't mean 'for beginners'. We all must constantly expand our understanding of certain core principles so that they become deeply internalized. Grasp of values, color, edges, focal point, eye path, balance, line, negative shapes, repetition, gradation, to name but a few… ensure successful paintings.
Composition and Design
An exciting area of study for those who want to develop their ability to grasp – and then paint into – what I call a 'shape collection'. Choose from the many carefully designed shape collections available, which I supply in the classes. Study what makes them sucessful and why. Or, bring your own reference photos or life drawing studies, and delve into the art and science of building a heart-and-soul-winning composition of your own.
Bring your open mind and adventurous spirit to this form of painting.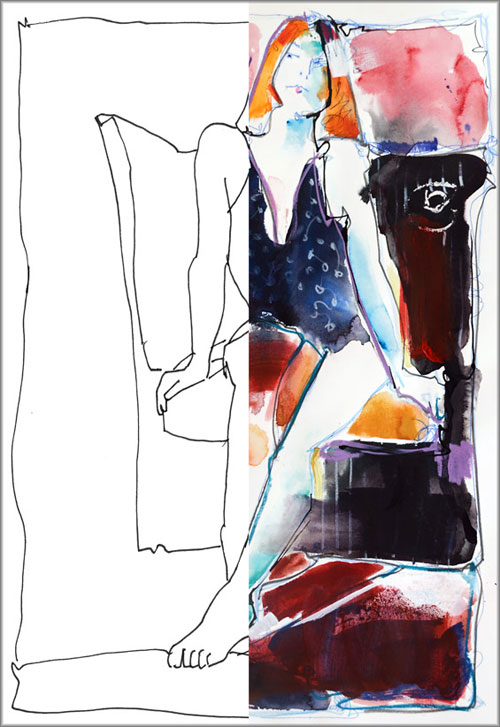 Working from Photographs
What are the three most important things to know when working from reference photos? What are the pitfalls? How do we select subject material which has great potential for a great painting? What the keys to success in shooting your own photos for painting reference? When do we stick to the inspiration of the photo, and when should we vary from what is there? How do we then leak our deepest feelings through the brush and onto the painted surface and not be a slave to the original image?
These are some of the questions we'll answer as we extract exciting compositions from sometimes unlikely material. Then, paint – capitalizing on the benefits of painting from photos while avoiding some of the traps that they can also represent for the innocent painter.
The Face Revisited
This has been a popular repeat-area of painting: emphasis on the face.
How do we render the windows to the soul, the sensuous mouth, the infamous nose – with some attention to truth, yet a look that is expressive, confident, free and bold?
The face can be portrayed in so many ways – which 'fit you' the best? What creates 'soul' in an image of a human face?
We'll explore many different answers to these questions and more in this workshop.
We'll review the works of some of the work of the masters – from Da Vinci to Warhol – and understand what makes them tick.
Join us and explore this most compelling of subject matter.
Sign up or request more information here
Learn to paint more intuitively and spontaneously – with a foundation in good design and proven principles for successful paintings. Join a group of painters engaged in painting freely and expressively from their creative core.
These classes are about learning and adventuring into new territory in a very positive, nurturing and freeing environment.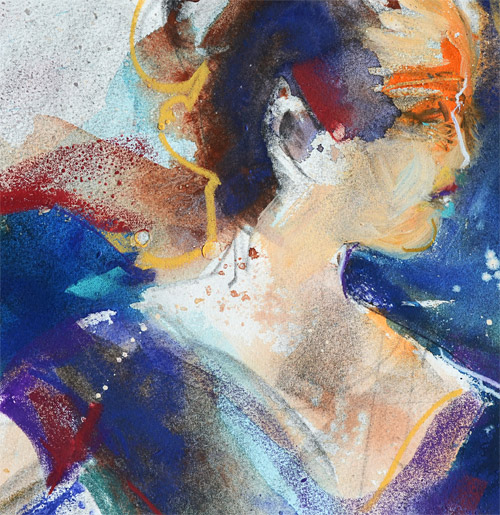 Drawing
If your desire is to focus on the fundamentals of drawing, simply request it and I will work with you on that specifically during the class. Drawing what you see and not what you think you see (preconceived notions of 'how things look') is learned and developed. Want to introduce style and character of line in your drawings? What a joy that is, and it carries over into your paintings.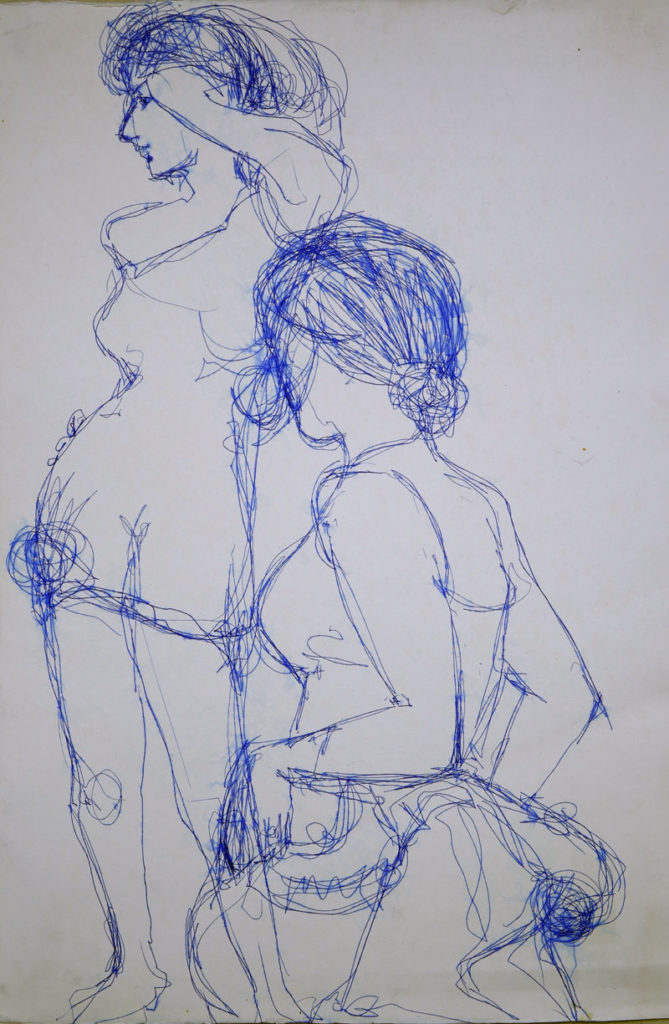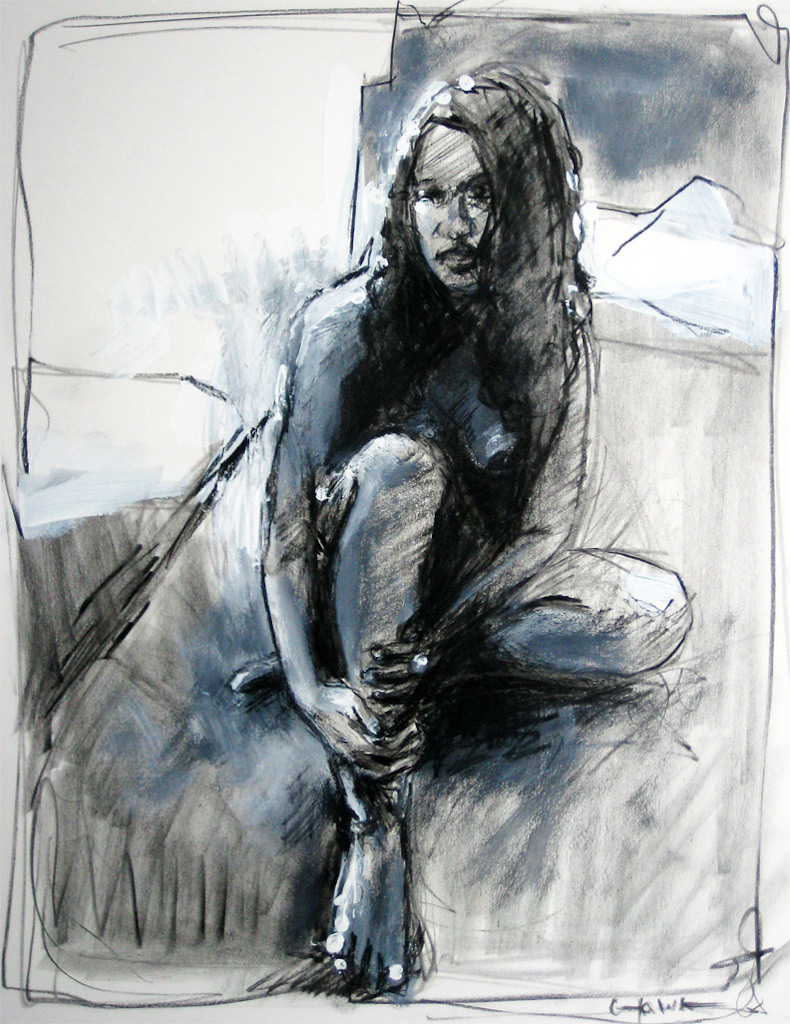 Each class will afford individualized focus for each painter. What is it that you need help with, or want to explore more deeply as an experienced painter? I will at times do start-to-finish demonstration paintings during the course of the classes as well.
Requirements? Painting experience is great but not absolutely necessary. 'Never before' painters have joined the classes and had stellar results. On the other hand, experienced painters frequently take these workshops to break out and paint with fresh 'new mind' again.
If in doubt, please call to discuss. Many of the approaches and techniques taught are ground breaking – so you are not 'different' if you do not have traditional painting experience under your belt.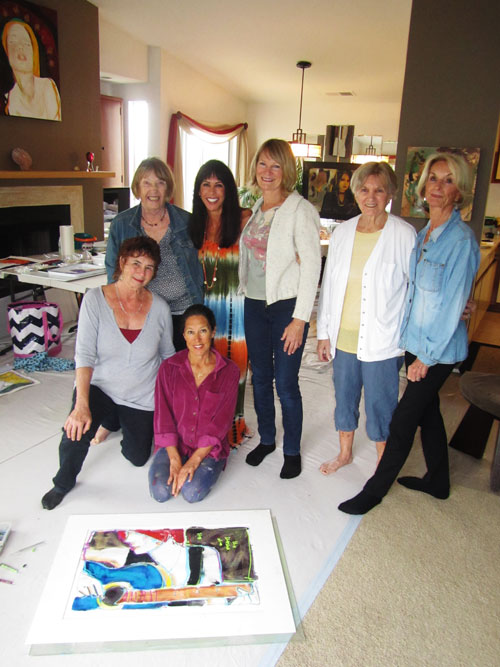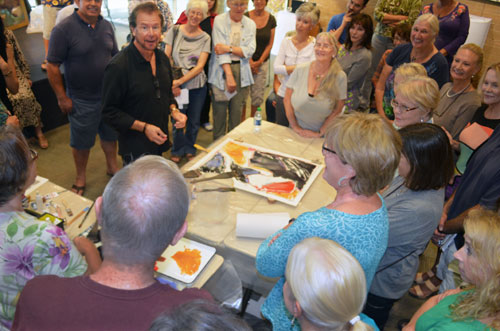 About the instructor:
The works of Richard Hawk hang in collections around the world. This highly awarded artist has also been sharing his own approach to 'painting from the inner core' for more than ten years in popular workshops and classes. Here are typical responses from artist attendees:
"I wish I could find the words to adequately thank you for the most rewarding workshop I've ever attended. I feel like many doors have been opened to me and I'm excited about walking through them!"
"I've attended several of Rich's workshops, and they are "perfection". We always work in a wonderful environment with a very relaxed atmosphere. It's continually inspiring and brings each student her/his own bit of joy! Thank you Rich."
"I particularly appreciated seeing you paint and talk about what you were doing as you did it. Thank you!"
"Your encouragement helped me explore heretofore untapped resources within myself… This morning I am still in the glow… through your workshop, I have found the balance in my own paintings for which I have been searching. To be able to now express myself fully through my paintings brings me great joy!"
"I seriously learned more in five classes with you than I did in a year with another teacher. Outstanding!"
What does it mean to 'paint from your core'? It means painting with spontaneity and a natural flow of your creative impulses. It also means painting with abundant energy.
No fluff – we'll work with specific methods and techniques for achieving and maintaining creative flow and making exciting energy evident in your work.
Advanced students – we'll explore the approaches of the masters and focus on design, the power of intention, and personal style.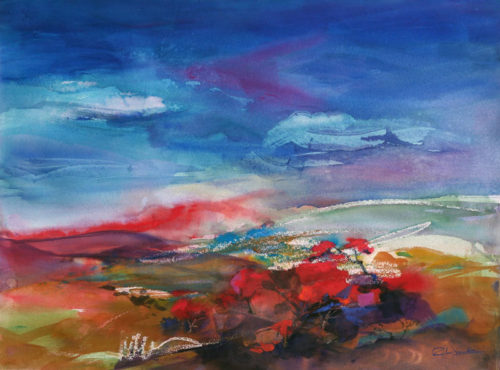 Join us in this exciting new series of workshop classes and begin to paint as you never have before.
PHONE:
760.504.4015 (leave a message please)
Mail payments to:
Richard Hawk
PO Box 235152
Encinitas, CA 92023
Please fill out the form below or call for reservation.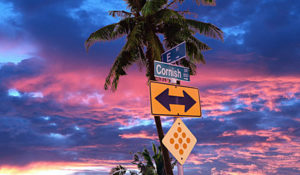 More About the Classes and Workshops
My classes and workshops are for those who want to break out. Break through. For years I've been teaching methods, approaches, mindsets, principles and practices which will absolutely enable a person to paint or create more fluidly and intuitively. Over the years I've come to understand more and more that what I'm teaching is not just the stuff of art. It is the stuff of the non-physical. Some call it spirit, some call it source, energy, the universe, God… no matter what you call it, it is at the core of intentional expressive arts.
My classes and workshops have come to a place where they are, for those who want it, not just about design and painting and successful ways of making paintings. They have become sessions where study for deeper understanding of life and purpose are an instrumental part of the mix. We have discussions. We have focussing rituals. We have mediations. All designed to explore the analogies, the parallels, the powerful cross currents between art and life, between doing art and being joyfully empowered. At the core, our belief systems ultimately limit or enable everything we do.
If this sounds exciting and promising to you, try a few classes or a workshop. Come journey to your own center. Prepare for what could be a new chapter in your artistic life.
Explore the 2019 lineup of classes and workshops and call or write me with any questions to help you decide what is right for you.

To Sign Up
Simply send a message using the form below or call 760.504.4015 and you will receive a return email or call back for registration and instructions. I look forward to painting with you.
If you sign up but can't come to class: Typical scenario. Respectfully ask that you understand a commitment to space in class is on the usual 'use it or lose it' basis. That said, I'm as flexible as I can be. If you want to change to a different available class date or there is someone ready to take your spot or you have some unusual circumstance and it's 45 days or more prior to the class, we will work it out together.