More About the Classes
What are these painting instruction sessions all about? Many of us as artists want to find ways to:
• Paint easily and intuitively
• Stop second-guessing ourselves
• Paint figures boldly
• Paint 'from the gut'
• Paint more loosely, more freely, and enjoy it more
• Consistently end up with accomplished paintings
All these things go hand in hand.
Often new painters are 'uptight' about their work. And, many times experienced, very good painters find themselves getting tighter as time goes on and getting less of a thrill from their work.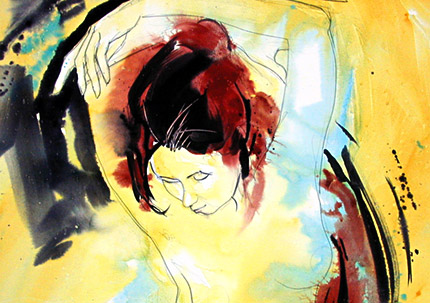 The instruction is designed around principles that Richard has developed to allow himself, and now others, to paint with exuberance and an unimpeded creative flow. In the workshops, he shares specific knowledge, attitudes, habits, methods and techniques which result in your ability to paint more freely and intuitively. He reviews design principles of the masters which, when built into your painting plan from the outset, enable you to paint with speed, ease and a light heart.
In these courses, you will sink your teeth into refreshing new ways of looking at the fundamentals of:
• Composition
• Value
• Focal point management
• Integration
• Balance of shape and line
• Paint handling
• The power of intention
Richard will demystify the handling of the figure as subject, and show how to manage it successfuly. Once mastered, these approaches are applicable to any subject matter.
Other subject matter, such as still life, landscape, images of water, and rendering of the human face, are covered as well in workshop sessions.
You'll work from reference materials. Bring your own reference (photos or life drawings), or use those of the instructor.
About the Instructor
Rancho Magazine said "Hawk paints strong, bold, direct female images that leave a visual imprint… His works are full of new ideas that confirm that breaking free is a creative statement."
Richard Hawk draws on studies of the masters, including ukiyo-e Japanese woodblock prints, and images of dance and theatre, to create arresting statements. The culture of Italy and its aristic legacy provide another wellspring from which he draws, with frequent visits to that country. His teaching style is energetic and joyful. He stresses a positive creative process that leads naturally to good art. His work has been hung and awarded in many national and international exhibitions and is in a number of public spaces and private collections worldwide.
Questions?
PHONE: 760.504.4015