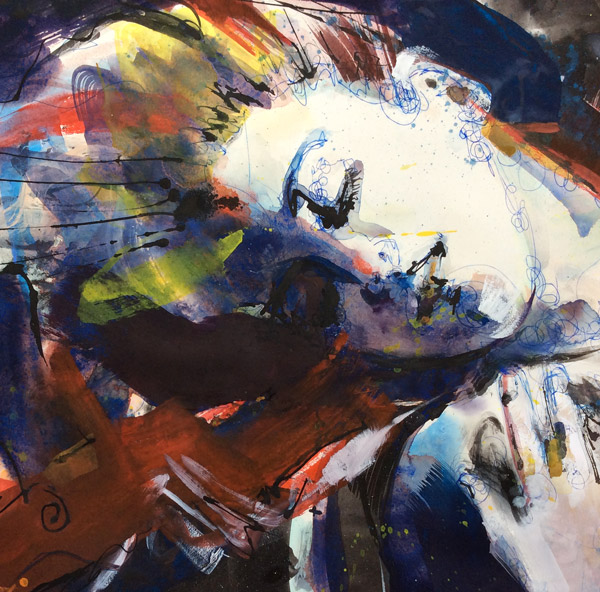 Dates and time
May 3, 4 & 5 (Friday, Saturday, Sunday) 2019
9:30 AM to 3:30 PM
Cost
$330 for three days
Over the years I've had many conversations with artists/students about the metaphysical aspect of painting. The place where the physical and psychological acts of painting meet the purely energetic, the spiritual, even. There is no question that there is something about art that is 'beyond' – that is why we make art and why we look at it. But exactly what is going on here? There is no doubt that it has to do in part with the 'belief' system of the artist – and the viewer.
A workshop aimed at the center which is not in the middle. The light which casts no shadow.
Together we will explore the deliberate, intentional pursuit of the non-physical in the creative process. We'll have some bust-out conversations spurred by readings from the likes Wayne Dyer, Thich Nhat Hanh, Kahlil Gibran, Mary Lou Cook, Rumi and Robert Pirsig. This will be the 2019 offering of this exciting and uplifting workshop experience which was so successful last year.
Note that just because we are expressing freely and intuitively in paint it does not mean that we abandon principles of good design, attention to shapes, edges, values, color, line, pattern and all the other tenets of success in painting. Far from it. Inspired work happens within form. There is plenty of attention to practical technique and practices. There will be painting demonstration each day (if the group desires it).
Call 760.504.4015 or write to me using the form at the bottom of the page and receive a call or email to complete your registration and get instructions. Questions? Please use the same form or call.
Catered
The mid-day meal each day will be catered (organic vegetarian) so that our creative involvement can be as continuous as possible.
• The workshop is small by design. If you're interested, please don't delay • Bring objects of or images of personal meaning that you can use for your paintings • Observe painting demonstrations • Learn new ways forward on your own creative path • Enjoy the collective spirit of like minded creatives
To Sign Up
Simply send a message using the form at the bottom of the page or call 760.504.4015 and you will receive an email or call back for registration and instructions. I look forward to painting with you.
'Oil on Copper: Co-creativity' • Encinitas, California
For years, people have written to me from all over the world asking: 'how do you do it'?  

Dates and time
To come – dates for the 2019 Oil on Copper Workshop. Stay Tuned!
Cost
$445 for three days
The 2018 Oil on Copper: Cocreation workshops were so successful, ground-breaking and fun… there will be another offering in 2019.  Stay tuned for dates – soon to come. The workshop will be for a select group because I need to devote sufficient time and attention to each and every participant. There is a lot to cover, a mix of creative methodologies and technical production knowledge involving copper, isolation layers and patina solutions. If you are interested or know someone who is, please contact me for priority status as this workshop fills fast. I am excited about throwing open the doors to the mindsets, methods and techniques of this truly unique form of artistic expression.
Almost all materials and gear will be supplied in this workshop.
• All copper and preparation/application/varnish/oxidation materials and gear will be provided
• You'll be asked to bring a few basic oil painting supplies
• Design compositions will be provided (enormous room for variation given the complexities of the process, so your work will be uniquely yours)
• There will be a release saying you understand that if used improperly some materials could be body-unfriendly (I have had no problems)
The mid-day meal each day will be catered (organic vegetarian) so that our creative involvement can be as continuous as possible.
Oxidizing (patina reaction) on copper is an exciting adventure. Much of the image is created using acidic solutions and varnish. Sealing the surface then 'freezes' the appearance in time (no more oxidation occurs after that point). Traditional alla prima oil painting finishes the work. Sometimes there is a little paint, sometimes a lot. The buttery richness of oil paint is unparalleled. Sometimes there is the joy of knifing it on bravura style.
Please direct message me here if you'd like to enroll. Looking forward to adventuring with you.

"The 'Beyond Belief' workshop was nothing short of life changing for me. My art expanded, my mind was opened to new possibilities, my funny bone was tickled… and most importantly, my soul was fed. It was thrilling! Thank You Richard!"
"Want to do it again. Very freeing experience and loved learning new tools / techniques. So much good energy …it's been fantastic for me. PRICELESS!"
"…you have an artistic way of expressing yourself through heart with words as well as images and brush."
"I seriously learned more in five classes with you than I did in a year with another teacher. Outstanding!"
Also see the Classes page for information and description of ongoing classes in Encinitas.