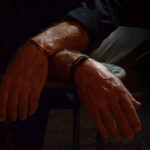 Richard Hawk is an American painter whose work explores themes of dualism, beauty, decay, and eternity. His approach consists of presenting elements which contrast on a number of levels within a unified composition.
The paintings are recognized for strength of underlying design and expressive intensity. His works often merge exquisite oil painting with the intrinsic beauty of oxidized copper, resulting in unique and highly charged statements open to a variety of interpretations.
Hawk's artworks hang in private and public collections around the world and have appeared in scores of exhibitions and galleries.